About Smith Chiropractic LLC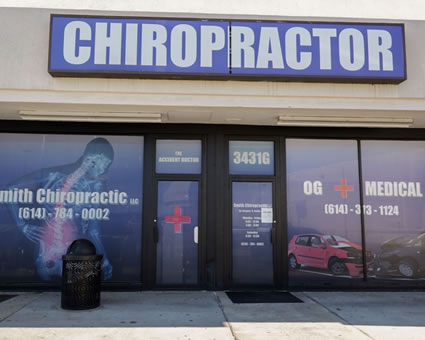 At Smith Chiropractic LLC, we offer professional and effective care in a laid-back setting. The vibe is relaxed, but the care is not. We take auto accidents seriously, and are committed to ensuring that every patient feels at home and taken care of.
Dr. Smith is known for developing a lot of long-term friendships with his many patients.
Letting the Body Heal
We believe that the body is capable of innate healing. When a patient is seen quickly after a car accident, whiplash injuries can be treated quickly. Sometimes, however, patients might wait a long time to be seen. These injuries are a little harder to treat, but Dr. Smith will do whatever he can to support his patients.
We believe that the body does have the ability to heal itself with proper therapy. We have one body, and we need to make sure it's treated properly in order to prevent any long-term effects. Our motto is that we put the 'care' back in health care! When you're here, you're in the right place."
Dr. Smith
On Your Side
We know it's stressful when you're dealing with car accidents. We do our best to help diminish that stress. Dr. Greg has seen it all over his 30 years of practice: claims adjusters calling his patients, auto body shops saying one thing and doctors saying another. He has watched his patients deal with telemarketing and come in feeling depleted. At Smith Chiropractic LLC, none of that stuff matters.
We're here to help and to create a relaxing environment for you. "I always tell people that I am on your side and that I will help you in any way I can," adds Dr. Smith. If he feels that patients might need additional support, Dr. Smith is happy to refer them to someone else. He is well connected to many other medical providers in Columbus and North Linden.
MEET DR. GREGORY SMITH »
Compassionate Care
Dr. Smith is a trusted diagnostician who is able to properly diagnose and treat spinal injuries. Especially after a car accident, we hope that Smith Chiropractic LLC is one of your first calls. Dr. Greg is a very knowledgeable, kind and honest provider. There are no hidden fees and we provide free transportation to and from our appointments.
We hope you visit Smith Chiropractic LLC on your road to recovery. Contact us to get started today!

About Smith Chiropractic LLC in Columbus, North Linden | (614) 784-0002