Meet Dr. Gregory Smith
A Passion for Chiropractic
Even after working as a chiropractor for more than 30 years, Dr. Smith is still just as passionate about his work as he was when he started!
I still wake up every day in love with chiropractic care. There is nothing I'd rather do," he says happily. "I love that I get to help people and the profession itself."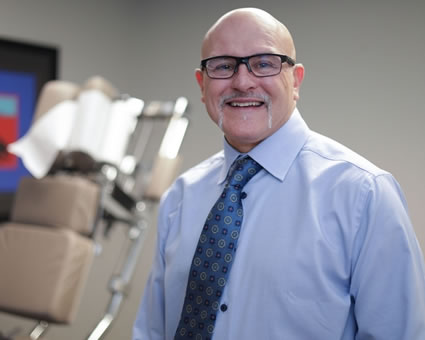 Dr. Smith graduated from Palmer College of Chiropractic in 1991. He practiced Chiropractic Medicine in California, Tennessee, and then started working at Old Town Chiropractic at this location in Columbus in 1991. Dr. Smith purchased Old Town Chiropractic in 2016 and changed the name to Smith Chiropractic LLC.
Dr. Smith first discovered the healing potential of Chiropractic care when his father took him to see a chiropractor in high school. As a young athlete, Dr. Smith was dealing with injuries. As he recovered, his interest in natural healing grew, as did his awareness of the importance of chiropractic medicine. It's no surprise that years later, he decided to attend Palmer and to devote his life to helping others through chiropractic medicine.
When he is not in the office, Dr. Smith enjoys being outside, playing sports, and fishing. He treats many retired athletes and has been the team chiropractor at the high school level. Additionally, he does pro-bono work and has treated people without housing.
A Healthy Lifestyle
Today, Smith Chiropractic LLC is a thriving practice, mostly known for taking care of patients recovering from automobile accidents. Dr. Smith also offers general chiropractic care and is interested in how chiropractic care supports a healthy lifestyle.
Dr. Smith is a very warm and caring provider and he always listens to his patients. His goal is to inspire his patients to live a healthy and balanced life. Receiving chiropractic care after a car accident helps promote a quicker recovery and Dr. Smith will be able to identify the root cause of any pain.
Before turning to medication or surgery after an auto accident, schedule an appointment at Smith Chiropractic LLC to learn how natural medicine can help.
EXPLORE OUR SERVICES »

Dr. Gregory Smith in Columbus, North Linden | (614) 784-0002