Therapeutics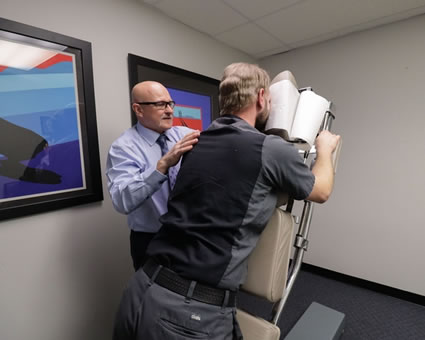 Learn more about the healing modalities you can enjoy before your adjustment with Dr. Smith:
Water massage table
A patient favorite! This relaxing table uses flotation, heat, and massage to produce a calming effect. You won't get wet, but will feel very supported and experience a full-body massage.
Traction table
Also known as a roller table, this table has rollers below the surface that roll up and patient's spine in efforts to separate the joints and help to increase blood flow to the ligaments and muscles.
Muscle stimulation
This method involves using electrodes that send electrical pulses through a patient's body to make muscles contract. It may sound painful, but it can actually relieve pain. The contractions stop spasms and release endorphin, the body's natural pain reliever. This modality is great for recovery and can prevent scar tissue from forming.
Ultrasound
You might be surprised that chiropractors also use ultrasound technology. This modality is used to increase blood flow and helps break down any internal scar tissue while promoting healthy muscle growth. It also reaches the soft tissue.
Hot packs
Another patient favorite! Hot packs heat up tissue on the back, relax muscles and increase blood flow. Dr. Smith is happy to give you some hot packs to take home so you can enjoy the heat.
Find Out What's Right for You
We can't wait to welcome you into our care. Whether you're interested in getting out of pain or simply want to live your healthiest life possible, we're here for you.
Contact us today to book your first appointment-we look forward to meeting you and your family!
CONTACT US »

Therapeutics in Columbus, North Linden | (614) 784-0002